Railway line to Statue of Unity will be ready soon:

It will connect Vadodara and Kevadia Colony.
... More >>
Vadodara People's Heritage Festival begins on November 19:

It marks the 508th anniversary year of Vadodara.
... More >>
Gujarat will close RTO border check-posts:

Objective is to eliminate traffic jams and stop corruption.
... More >>
Gujarat's maternal mortality rate improved marginally:

Kerala was at the top, Uttar Pradesh the worst.  
... More >>
Scooter-sharing industry prospering in India:

Bengaluru has the largest fleet in the country.
... More >>
Hostel likely at Sama indoor sports complex:

It will be meant for visiting sportspersons.
... More >>
Gujarat will encourage international cruises:

Cruise circuits being planned.
... More >>
Unholy 'collaboration' between pathology laboratory and doctor:

Shocking, but not surprising.
... More >>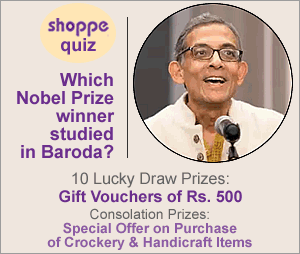 MS University may hire a private agency to improve its ratings:

Tender floated to invite bids.
... More >>
Fire breaks out at Centre Square Mall, controlled quickly:

No injuries reported.
... More >>
Gujarat government wants to promote multidisciplinary courses:

Students can even tailor-make their own courses.
... More >>
MCQ based examinations proposed for state universities:

Professional skills important for graduates to be employable.
... More >>
Three schools asked to pay more rent to civic body:

Tough times ahead for Tejas, New Era and Maharani School.
... More >>
City's high-rise fires may need borrowed equipment:

Hydraulic elevated platforms are awaiting repairs.
... More >>
Baroda Cricket T20 League proposed:

Cricket association is considering an IPL type idea.
... More >>
Customers permitted to check eatery kitchens:

Restaurants welcome the move, but have apprehensions.
... More >>
One more port at Bhavnagar:

The Rs. 1,900 crore facility will increase capacity to 9 million metric tonnes per annum.
... More >>
Poor pupil-teacher ratio in higher education in Gujarat:

The state ranks 26th in India.
... More >>
Not just phones, traffic police object to earphones too:

Ahmedabad cops say that earphones also can distract drivers.
... More >>