Vadodara Centre for Animal Rescue & Emergency (VCARE)
VCARE is a compassionate, rational and non-political registered public charitable trust incorporated on November 12, 1997 by a group of animal-loving citizens and is an Associate of the RSPCA, UK. It is recognized under 80G (5) of the Income Tax Act, 1961. VCARE is also recognised by AWBI (Animal Welfare Board of India).

The main aims and objectives of VCARE are prevention of cruelty to animals and securing their health, safety and welfare.

Our services include:
Providing medical assistance to injured and distressed animals, especially strays.
Providing an animal ambulance service.
Offering sterilization and inoculation against Rabies for stray dogs.
Organizing vaccination camps for cattle and other animals in rural areas near Vadodara.
Conducting awareness and education programmes in schools, housing societies and clubs (Rotary, Lions, etc.) to sensitize people to the plight of animals and the treatment meted out to them.
VCARE does not receive any government funding and is solely dependent on contributions from animal-lovers and well-wishers for their work and has received considerable support from the people of Vadodara and corporate as well as welfare organizations by way of funding, sponsorships and donations in kind. VCARE organizes its own fund-raisers from time to time and is a member of United Way of Vadodara and receives aid from it. It has also received aid from the International Donkey Protection Trust, UK, for building a donkey enclosure.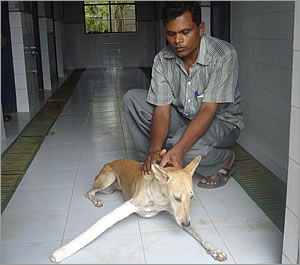 In 2000, VCARE bought a large piece of land just outside Vadodara (at Lakdikui village) near Jaspur in Padra Taluka. This land houses an Animal and Bird Shelter, a Boarding Kennel and a Hospital complete with an Operating Theatre and OPD. A large cowshed offers shelter to abandoned, sick and diseased cattle. There is a special enclosure for donkeys which was built with support from the International Donkey Protection Trust (UK). There is housing for medical and support staff.
Present Activities:
VCARE has tied up with Vadodara Municipal Corporation for the sterilization of street dogs.
VCARE organises Medical Camps for domestic animals (cows, buffaloes, goats, sheep, etc.) in nearby villages.
VCARE started its Boarding Kennel for pet dogs at Lakdikui in November 2001. The Boarding Kennel is spaciously designed and accommodates 8 pets at a time. We have received a very enthusiastic response for this service since many pet owners in the city have no reliable place to leave their pets when going out of town.
Our Animal Ambulance is available for any animal rescue/emergency.
With the overwhelming problem of strays on city roads (cattle, donkeys, pigs, cats) that creates a lot of antagonism against animals, VCARE has devised a multi-pronged strategy to counter these attitudes: a) working with the Vadodara Municipal Corporation in controlling strays through sterilization programmes, b) conducting awareness programmes in schools and social organizations, highlighting ways in which people and animals can live together in harmony.
Donor Opportunities:
Donations
No amount is small for us. While animal owners pay us our fees, your contributions help us in buying medicines for treating stray animals that have no one to care for them. Benefactors can also consider participating in our Animal Shelter & Hospital construction programme. All donations are accepted with proper receipts and certificates. VCARE is recognized under Section 80G (5) of the IncomeTax Act, 1961.

Donations in Kind
Old leashes, bowls, bedding, veterinary equipment and any other items in usable condition are always welcome.
Books, Magazines, CDs and all informative materials on animal welfare, community initiatives and lobbying for animal rights are requested.
Reading Material for Awareness & Formats for Training Programmes that can be easily replicated here with a regional slant are also requested when not covered under copyright.
If you are an animal activist in your community and would like to share your views and experiences with us and are likely to visit Baroda, please let us know. We can organize your talk/slide-show/workshop with our members.
For more information, please contact (from 10 a.m. to 5 p.m.):
Dr. Pratibha Panchal, Administrator
Vadodara Centre for Animal Rescue & Emergency (VCARE)
VCARE Aashiayana
Lakdikui Village
Near Jaspur
Padra Taluka
Vadodara 391 440
Phone: +91-9409027166 (From 10 a.m. to 5 p.m.)
Email: vadodaracare@yahoo.co.in
Website: www.vadodaracare.org.in



VCARE's Board of Trustees:
Nandita Amin, Managing Trustee, Architect and a friend of animals
Chaula Patel, Trustee, Graphic Designer and a friend of animals
Ashwin P. Hathi, Trustee, Advocate and a friend of animals
VCARE's Executive Committee Members:
Kiran More, Former Vice-Captain and Wicket-Keeper of the Indian Cricket Team and a friend of animals
Dr. Bharat Mody, Orthopaedic Surgeon and a friend of animals
Tanmay Gangopadhyay, HRD Consultant and a friend of animals
Dr. Annapoorna Ravichander, Ph.D. (History) and a friend of animals
Poonam Bubber, an ardent animal lover