Vadodara Quiz
Prizes
10 Lucky Draw Prizes:
Shoppe Gift Vouchers of Rs. 500 Each
(Valid for 6 months)
Consolation Prizes
For Every Correct Answer:
Special offer on purchase of Crockery
& Handicraft Items
See Details.


All the prize winners will be informed
by e-mail by Baroda Online.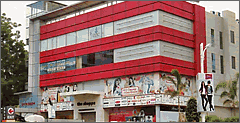 shoppe --- the Barodian's favoured
one-stop shopping destination.
Cool. Contemporary. Trendy.
And very, very warm.
Shop for someone special
(Including yourself)
Personalised Gifts.
Handicrafts. Crystal Ware.
Cosmetics. Jewellery.
Crockery.
Toys & Games.
Children's Products.
Leather Goods.
Men's & Women's Accessories.
Stationery.
Kitchen Equipment .
Electronic Items.
Chocolates.
Gold & Silver Plated Ware.
Lamps. Clocks.
Home Decor Items.

More About the shoppe:
http://www.baroda.com/theshoppe.php