Bhasha Research & Publication Centre


Bhasha Research and Publication Centre was founded in 1996 for study, documentation and promotion of marginalized languages and forms of expression. Bhasha stands for 'voice' and its special interest is the Adivasis, whose national population is about 87 million, and the nomadic and denotified communities, whose population is estimated at 60 million.

Bhasha's work areas include promotion of non-scheduled languages, study and conservation of Adivasi imaginative expressions, education, healthcare and empowerment of Adivasi communities, protection of human rights of the Denotified and Nomadic Tribes (DNTs), and policy level interventions in the interest of diversity, rights and empowerment.

Bhasha has created the Adivasi Academy for education, research and extension work, several Community Based Organizations for development work and the Budhan Theatre as a platform for creative expression of nomadic communities. In recent years, Bhasha has extended the scope of its language and cultural activities to cover other ethnic communities through initiatives such as the People's Linguistic Survey of India and Community Ethnography.
Geographical Area
Bhasha's work on revitalization of languages and cultural documentation is spread across India. Its work on primary education, child protection and healthcare is focused in the Chhotaudepur district of Gujarat. Bhasha's key activities include the following:
1. PEOPLES' LINGUISTIC SURVEY OF INDIA

In recent decades there has been tremendous concern globally about the rapid dwindling of languages. In India too there is a lack of clarity on how many languages are actually spoken in India. Therefore in 2010 Bhasha decided to undertake a nationwide survey of the living languages in the country. Titled as the Peoples Linguistic Survey of India (PLSI), this is the first national survey of languages in post- Independence India. It encompasses people's perception of their speech varieties and covers communities across all States and Union Territories. The survey, conceptualized and led by Prof. G. N. Devy, Bhasha's Founder and the Chairman of the PLSI series, is completed and reports 780 living languages. The PLSI was carried out by a team of 3000 individuals including scholars, linguists, writers, activists, publishers and community representatives. It is edited by the National Editorial Collective comprising sixty members drawn from diverse disciplines.
The Survey is being published in 70 volumes by Orient Blackswan, Akshara, Banalata, Emesco, Padmagandha and Sir Khasi Book Company. 26 volumes are already published of which a few have received recognition.
The Maharashtra Volume was awarded by The Federation of Indian Publishers the Second Prize under the Category of Best Reference Book (2013-14).
The Gujarat volume was awarded by The Federation of Indian Publishers the First Prize under the Category Best Production Award General Book (Hard Bound) Regional Languages (2015-16).
The Madhya Pradesh Volume was awarded by The Federation of Indian Publishers the First Prize under the Category of Best Reference Book (2015-16).
Work on translation of the PLSI series in Hindi has already begun. Following the survey, the Central Government and Universities have started several new initiatives for protection of Non Scheduled Languages.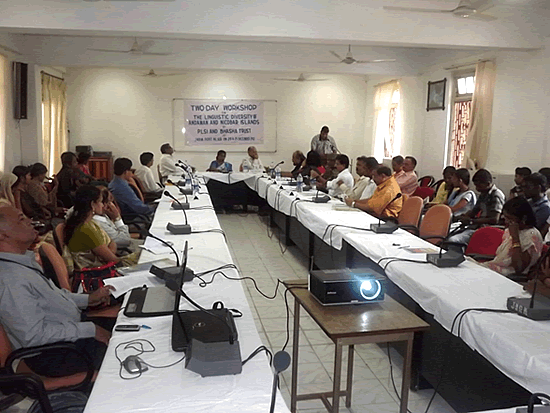 2. ADIVASI ACADEMY
When it was created, Bhasha Centre had envisioned the creation of a premier institution of national excellence that would establish Tribal Studies as a serious intellectual and social-action field. Bhasha established the Adivasi Academy at Tejgadh, on the borders of Gujarat, Madhya Pradesh and Maharashtra. Combining the roles of a university, research centre, social activist-centre, laboratory for experiments in development and cultural expression forum, the Adivasi Academy addresses all aspects of Adivasi culture, history, society, rights and development and has evolved as an eminent forum for study, analysis, policy intervention and advocacy.
Presently, the Academy focuses on studies on tribal communities, primary education and healthcare, documentation and revitalization of tribal arts and culture and child protection.

2.1. Vasantshala Training Centre

Vasantshala has been conceptualised and established by Bhasha's Founder-Trustee, Dr. Ganesh Devy. Vasantshala accepts out-of-school tribal children in the age group of 6 to 15 years to stay and study at the school so as to cover their learning gaps effectively. Thereafter, they are re-integrated in government schools or Ashramshalas, in Class V or VI. The retention rate of these children is 75 percent. This is therefore a proven, sustainable and much needed program.

One of our students of the first batch, Vithal Rathwa (of Nathal village, Kanwant taluka) went on to finish his Class XII from the Don Bosco School, Kanwant, and has now been selected as a jawan in the Indian Army. Another child from Nathal village, Naran Jangaliya Rathwa, was mainstreamed in Kanwant English Medium School after Vasantshala and studied Computer Engineering (Diploma) and now works in a computer firm in Vadodara. Sharda Bhimsingh Rathwa from Nani Sadli village was mainstreamed at a Government school in Devgad-Baria, went on to do a Nursing Course and is now a nurse at a private hospital in Chota Udepur. They often come to the Academy to meet their teachers and speak to present students. If it was not for Vasantshala offering them schooling at the right time, it is possible that they may have joined the ranks of the illiterate, exploited tribal labourers, condemned to a life of want and poverty.

Migrant tribal parents leave their children in the care of Vasantshala which is run by community teachers who are provided special training in Tribal Education at the Adivasi Academy. Vasantshala is an experimental schooling centre for Multilingual and Mother Tongue Education Centre on the Academy campus. At any given time, Vasantshala generally has about 60 children, both boys and girls, who stay with us for a period of 3-4 years before being admitted to the local government, charity-run, preferably residential school. These children usually have a learning gap of 4-7 years and this needs to be bridged at the earliest so as to lay a firm foundation for language and technical learning and other subjects. No fee of any kind is charged from any parent for the education and stay of their child at Vasantshala . Bhasha receives partial funding from corporate and individual donors but very rarely do we manage to get enough funding to cover all costs. Since Vasantshala is not a mainstream school, it does not attract funding from formal funding agencies. As a school that needs to run from one academic year to another, however, we need to support it in every way we can.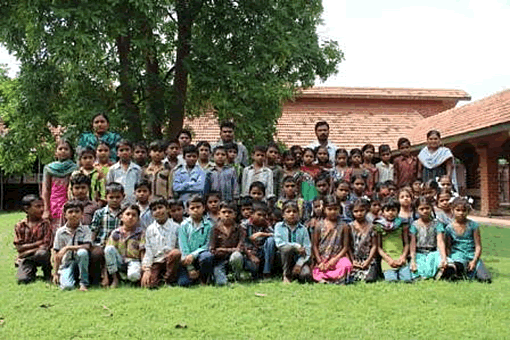 2.2. Healthcare for Adivasi/Rural Population
Most measures for tribal development while giving emphasis to economic and social development have generally neglected the vital aspect of healthcare. The tribal health status is affected by factors as economic deprivation, compulsive migration, change in cropping patterns, occupational hazards, shortage of potable drinking water, sanitation facilities and lack of transport. Both, healthcare access and delivery in tribal areas, pose a challenge to the state's health system. Further, the pull between tradition and modernity is very evident in the area of tribal healthcare. While they have a rich inheritance of traditional medicinal practices, tribal communities are losing this collective knowledge due to loss of access to forests, displacement and migration. The absence of adequate research and strategies to bridge the gap between the traditional medicinal knowledge of tribals and modern medicine, results in reduced well-being among tribal communities.
Bhasha has been active in the area of tribal healthcare in the Chhotaudepur district of Gujarat since the year 2001 under the title 'Prakriti'. Its initial focus on sickle cell gradually expanded to providing qualitative and sustained health care and medical aid to the tribal/rural population in the area. In the nearly two decades of its experience in tribal healthcare, Prakriti has dealt with 2,86,000 patients from across 886 tribal villages (based on no. of visits). A distinctive feature of the Prakriti programme is its endeavour to understand the tribal view of well-being which includes their perspective of the body, relationship with nature, traditions and rituals, philosophy of life and death and social and cultural practices. Thus, while Prakriti follows the modern/allopathic medicine, it does not negate the tribal way of healing. Prakriti's health intervention in the tribal district of Chhotaudepur aims at enhancing the well-being of tribal/rural community approach has been to offers medical cure for critical illnesses through allopathy and also encourages traditional practices for illnesses which have a definite and assured cure in tribal society.

The key activities of Prakriti Health Centre includes carrying out village health surveys, treating patients in relation to dermatological, pulmonary, osteoarthritis, gyanaecological, and gastroenterological issues, holding health camps related to related to general ailments, eye, orthopaedic, sickle cell, silicosis and cleft lip, health awareness programmes and training community health workers. Prakriti has all necessary equipment to address primary healthcare. The centre remains well-stocked with generic, rational drugs procured at subsidised rates from Low Cost Standard Therapeutics. The services are provided almost for free; the centre charges annually rupees two hundred from each family as a nominal fee. There is a very well-experienced and qualified team of doctors as Dr. Kiran Shinglot, Dr. Jayshree Rao, Dr. Shakuntala Joshi and Dr. Arvind Pratap who have won the trust of the local community. The health team includes both full-time and visiting
2.3. Vaacha Museum of Voice

'Vaacha', denoting 'voice', the Museum at the Adivasi Academy is a space for expression of Adivasi imagination and creativity. Vaacha is created as an open complex, its walls adorn intricately designed jalis while its inner spaces open out to the courtyard and the majestic Koraj Hill. Vaacha is the largest resource centre of adivasi culture in the country.
Bhasha has prepared for the Ministry of Tribal Affairs, the National Consortium of Tribal Arts and Culture, which digitally connects the collections of eighteen Tribal Museums through films, photographs, songs and stories reflecting the richness and diversity of adivasi life.

Over the years the Vaacha has put together digital documentation of performative practices of over 140 Adivasi and nomadic communities. Vaacha has embarked upon an open-source Visual Archive collection of lectures, videos and nearly 40,000 photographs, of and by Adivasis, providing a glimpse of adivasi life and society in transition.
Bhasha's publication unit has published a hundred titles including little magazines, books and journals in 32 adivasi languages. Vaacha has a craft outlet promoting the artwork of adivasi artisans. The Academy's 'Lakhara' studio is bringing together tribal artists from across India through national workshops.

Vaacha is presently preparing a National Digital Corpus of Adivasi Music. Already, the adivasi music of Gujarat, Chhattisgarh, Assam, Kerala and Himachal Pradesh is documented and the corpus is being extended to cover music of other states. Published music includes experiments in combining Indian classical and Adivasi music traditions which have helped to revitalize community interests in music traditions now threatened by globalization, as well as introducing Adivasi music among the mainstream. Alongside the preparation of this music corpus, the 'Vaacha' has been particularly engaged in understanding the social and cultural context of the music traditions being documented and trying to keep these alive within the communities. Vaacha has on display musical instruments and has documented their making.
Vaacha's efforts to promote cultural expressions move beyond study and documentation. Bhasha has instituted the annual Kaleshwari Mela at Kaleshwari at Panchmahals. Held every Mahashivratri, this lok mela brings together over 5000 nomadic and adivasi artists from Gujarat and the neighbouring states in a visual spectacle of traditional theatre, songs, music, dance, epic narratives and acrobatics.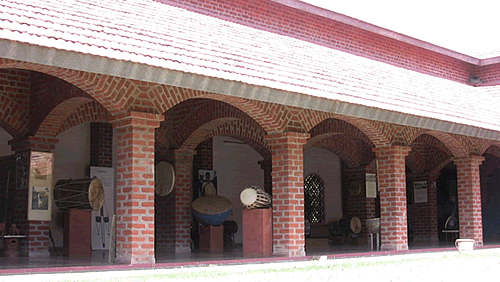 The range of visitors to Vaacha include dignitaries as Ambassadors, Vice Chancellors of universities, community members, artists, culture studies scholars, anthropologists, museum experts, university and college faculty, researchers and school children.
2.4. Library on Tribal Studies

Vaacha is connected to the Academy's Library which holds print and audio-visual resource on adivasi societies, endangered languages and related sociological issues, with a large collection of journals and books. The Library at the Adivasi Academy has at present 185 academic journals and about 45,000 titles with more added each year. In its full capacity it will hold a specialized collection of 200,000 volumes for reference. The only such library in the area with a rich and diverse resource, the library is visited by researchers and students from India and overseas and local readers.
2.5. Bhasha Van

Language is a unique human accomplishment. No other animal species has so far developed the kind of sophisticated language ability that human beings have acquired. Among the nations that are known for vast language diversity, India ranks very high along with Papua New Guinea and Indonesia. There is a widespread feeling all over the world that many of the languages preserved by speech-communities are rapidly declining. However, ever since the Bhasha Research Centre started its work of language revitalization, focusing more on the survival of communities rather than merely on words and tales, many of India's previously vulnerable languages have started showing a strong resurgence.
In celebration of the survival and struggle of these languages of India, the Adivasi Academy is creating on its campus, a special area designated to be known as Bhasha Van. Bhasha Van, a walkway lined with trees, is equipped with specially prepared audio tour that helps visitors journey through this one of a kind experience. The audio tour allows visitors to engage with India's linguistic diversity through audible language samples in the form of songs, poems, folktales, sayings and jokes drawn from different languages of India. Already, 70 languages are recorded, the plan is to cover 700 Indian languages.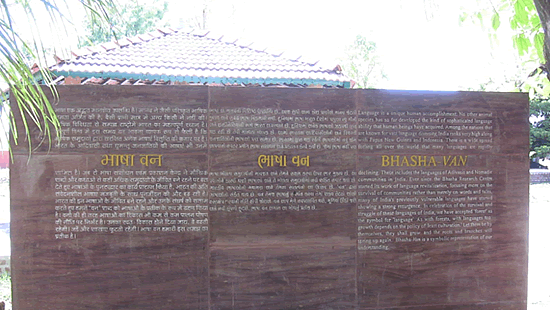 Donations to Bhasha Centre

Bhasha Centre is a registered Public Charitable Trust. It has 80 G exemption under the Income Tax Act for receiving donations as well as permission under the Foreign Contribution Regulation Act to receive foreign grants and donations. The accounts of Bhasha Centre are audited annually by an external Chartered Accountant
Those who wish to make a donation to Bhasha Centre may write to Co-ordinator at bhasharesearch@gmail.com or call on 0265-2331968, 2359059.
For the year 2017-18, Bhasha requires support for its following activities:
1. Vasantshala Training Centre
Bhasha meets the cost for the teachers' salaries, educational and play material, meals, clothing, bedding and daily provisions of the children.

Annual requirements of Vasantshala (60+ residential students and 6 teachers) for 2017-18 are as follows (price quoted from the cheapest vendors):

1. Educational Materials (including text books, note-books, pens, pencils, erasers, colouring materials, colouring papers and sketch-books, maps, educational posters, cello tapes, chart papers, gum, thermocol sheets, and so on): Rs. 24,834.00
2. Bicycles (6 medium sized bicycles with trainer wheels): Rs. 14,780.00
3. Agricultural instruments (tribal children enjoy cultivating small garden patches near the school area and they are encouraged in this by their teachers.): Rs. 6640
4. Uniforms and Sandals (Lakhani floaters, 2 pairs of track suit pants and collared T-shirt for boys and girls, sweaters): Rs. 75,000 for 60 students; Rs. 38,000 for 30 students
5. Celebration of Festivals for school children at Academy -- Uttarayan, Holi, Diwaso, Diwali, Rakshabandhan, January 26 and August 15, World Indigenous Day (we get kites/dora; holi colours; fire crackers/rangoli; small gifts for children; a sweet is served with the food on all festive days; and so on): Rs. 25,000.00
6. Cleaning Materials (for residential areas, classrooms and toilets used by children, 3 large mirrors): Rs. 18,000
7. Residential Materials (ceiling fans – we need to replace them this year, , one steel cupboard): Rs. 36,400
8. Daily Hygiene requirements of students (bathing soaps, washing soaps, hair oil, combs): Rs. 20, 832
9. Sponsorship of Meals: Rs. 10,000 for all meals of 1 student for 6 months,
Rs. 20,000 for all meals of 1 student for 1 year; Rs 12 lakhs for 60 children
10. Salaries to Co-ordinator and 6 full-time teachers cum wardens: Rs 7,80,000
11. Training of Teachers: Rs. 10,000
Adoption Cost of one Child for a Year: Rs. 40,000
2. Prakriti Healthcare

Medicines: Rs 2,00,000
Travel of Doctors from Baroda to Tejgadh (every weekend) : Rs 1,44,000
Clinic Maintenance as printing of case papers etc: Rs 30,000

3. Promotion of Adivasi Arts and Maintenance of Vaacha Museum at Adivasi Academy:

Rs 1 lakh
4. Maintenance of a collection of 50,000 Books at Adivasi Academy Library catering to general readers , school and university teachers, scholars, researchers children, from the Chhotaudepur district, across India and overseas:Rs 1,95,000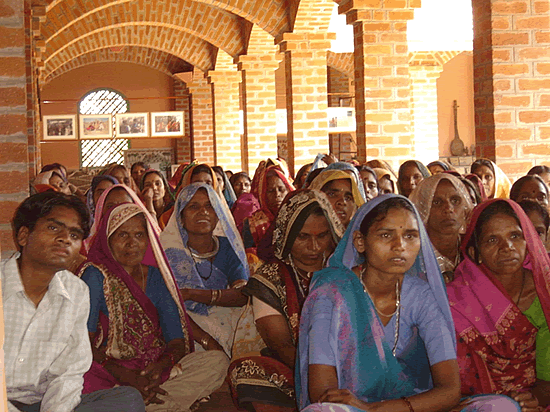 Bhasha Research and Publication Centre
Address:
37, Shrinathdham Duplex
Opp. Shrinagar Society
Behind Dinesh Mills
Vadodara 390 007
Gujarat - India
Ph: 0265-2331968, 0265-2359059
Fax: 0265-2359059
Email: bhasharesearch@gmail.com