V-One Society: Fellowship with the Handicapped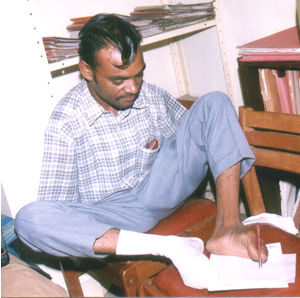 One of the oldest NGOs in the city, V-One Society was established in 1972 to work towards the rehabilitation of an increasing number of the physically handicapped in the city and help them become useful citizens and participate in as many activities as they can. The name V-One was selected as it means, We are One, which reflects our fellowship with the handicapped. Till date, we have assisted more than 16,000 persons with disability in Baroda and the nearby villages in various ways. V-One Society is registered under the Societies Registration Act 1860 (no. Gujarat/366/Baroda) and the Bombay Public Trusts Act 1950 (no. Baroda/F 123) and all donations to the Society are exempt from Income Tax under section 80(G) of the Income Tax Act, 1961.
Since 1983, V-One Society has been receiving yearly Grant-in-aid from the Ministry of Welfare, Government of India towards providing medical aid and appliances to the physically handicapped. These include calipers, braces of different kinds, crutches, corrective shoes, wheelchairs, tricycles, hearing aids, walking sticks, goggles and tape recorders (for the visually impaired). These aids and appliances are purchased from ALIMCO, Kanpur and necessary fittings are done at the workshop at SSG Hospital. However, V-One Society pays for medicines and immediate financial help to the beneficiaries from its own funds.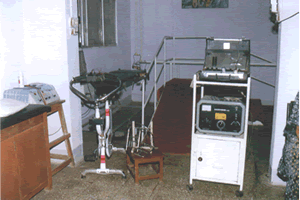 Since most physically handicapped are in need of Physiotherapy, we have set up our own well-equipped Physiotherapy Unit at our premises. It is managed by a qualified physiotherapist with an assistant for 6 days a week. Treatment is totally free for all physically handicapped persons registered with us. Even others can avail of this service at a nominal fee, but first preference is always given to the handicapped.
V-One Society maintains an updated list of disabled persons with educational qualifications for possible placement. These persons are assessed by our project co-ordinator and advised on choice of career. If they are advised vocational/technical training, we provide back-up in terms of admission formalities, term fees and books, depending on their economic status. Our co-ordinator regularly visits institutions, corporate offices and industries in and around Baroda to source placement opportunities and accordingly recommend our members. If they are not educated enough or reside in villages where employment opportunities may not be there, V-One Society advises self-employment and offers loans to set up modest cycle repair shops, groceries, tailor shops, vegetable carts or any small business. We make it our business to access all official information about scholarships, loans, concessions and other facilities for the handicapped and share it with as many handicapped as possible.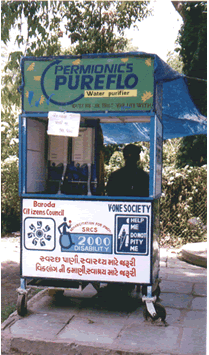 Our social worker organises camps all over Gujarat to identify disabled persons, get them as much help as we can and follow-up on beneficiaries for our feedback programme. Handicapped persons are also helped with railway concessions and other benefits declared for them by the state and central governments. Those persons needing operations and medical aid are also identified at these camps and referred to the nearest hospital for treatment. As many as possible are brought to the SSG Hospital where we have a little more control on their treatment.
Most importantly, V-One Society is very sensitive to the fact that whatever the handicap, these people are human beings first with all the hopes, aspirations and love for life that any person may have. This part of their personality is addressed through our recreation programmes covering Art and Craft Therapy (painting, terracotta, embroidery) and Music (vocal, tabla, harmonium, casio). These are taught to interested members by professional teachers. This has also led us to marriage counselling, helping our members find suitable life partners (handicapped or otherwise) and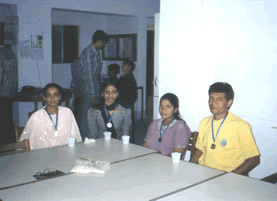 V-One Society has arranged quite a few marriages of our members!
V-One Society participated in the Abilimpics of western region at Ahmedabad in November 2001. 10 disabled persons from amongst our members proficient in dress-making, embroidery, chess, jewellery-making, watercolour painting represented the V-One Society. They won numerous prizes and qualified to participate in the National Abilimpics in Delhi in November 2002.
Ear Moulds For The Hearing Impaired: Baroda's V-One Society conducted a one-week training programme in which physically challenged persons were trained to make ear moulds for hearing impaired persons. Four members of the society were trained at Arphi Electronics Pvt. Ltd. at Mumbai. These trained persons are now gainfully employed at V-One Society, making moulds at subsidised rates for poor patients. The society makes the moulds available to the needy at only Rs. 100 apiece.
V-One Society's Governing Council for 2002:
Jal Patel (President), Hemanta Krishnadas (Vice-President), Vinodini Mayor and Dr Ashok Bhatt (Hon. Secretaries) and Niranjan Dave, Indubhai C Patel, Dr Suketu Trivedi, Nisha Grover, R C Tripathi, Anil Navale, Jaywant Mehta, Dr. Bharati Modi (Members)
Our Annual Report For 2002 - 2003 At A Glance:
2635 disabled persons registered at V-One Society in the year 2002-2003.
The break up of the help given is as follows:
Activities

No. of Persons

Amount (In Rs.)

Medical Aids & Appliances under A.D.L.P.
Scheme inclusive of corrective surgery

1858
(17 surgery cases)

1,300,250.50
-

Helped by donations from V-One Society
for medicines, aids and appliances, etc.
60
20,960.00
Number of Camps
20
-
Physiotherapy Centre
313
-
Assessment Training & Place Placement Centre
Employment
Self Employment
Education

7
94
39


1,43,702.00
31,246.00
Railway Concession
55
Computer Training Centre
47
Recreation and Rehabilitation Centre
28
-
Donor Opportunities:
Donations in both Cash and Kind are welcome. Cash donations will be eligible for exemption under the IT Act. Donations in kind could include books and magazines for circulation amongst members, equipment in running condition that is useful for the disabled, information about employment opportunities, self-help and innovative programmes for the disabled that have proved popular and successful in other parts of the world. If you happen to work with the disabled wherever you are and are travelling to Baroda, we would love to meet you and exchange ideas. Please contact us at:
V-One Society
Bhumija Complex
Through the lane opp. Red Church
Fatehgunj
Baroda 390 002
India
Phone: 0265-2791621
Email: v_one_society@wilnetonline.net